Jordan Echo Private Day Tours From Aqaba
If you come to Aqaba on any occasion, whether by cruise ship, flight charter, from Eillat border, from Taba Egypt by ferry boat, or you are simply having a long stay in Aqaba, Jordan Echo Tours offer a wide variety of day tours and activities . It will be our great pleasure if you visit our Aqaba office or contact us to enjoy the most amazing tours and special activities with high quality services and competitive prices:
Dayily private Tours to Petra, Wadi Rum, Dead Sea, Baptism Site, Madaba, Ma'in hot springs, as well as our exclusive tours to the holy sites in Jerusalem and Biat Lahem…
Cruise, Submarine, Yacht or Glass Boat tours to explore the wonders of the Red Sea
Marine Activities…. Diving, scuba diving or snorkeling and marine sports, including parasailing, skiing, jet ski windsurfing, fishing and many others ……
Adventure Tours like Jeep Safari to Wadi Rum and Wadi Araba, breathtaking canyon adventures to Wadi Mujib, Wadi Ghuar, Wadi Hassa, Wadi Hamad, together with special unique trekking, hiking, camel riding, horse riding and cycling tours. Or, if you are interested in Bird watching, we can arrange for you the visit to Aqaba Bird Observatory.
One Day Tours to Pharaoh Island- Egypt and Eillat where you will enjoy different activities like snorkeling or diving at Aqua Beach, visit the Underwater Observatory Marine Park or to swim with the dolphins at Dolphin Reef.
Jordan Echo Tours …… your vacation of adventure and relaxation
PETRA DAY TOURS
"Match me such a marvel save in eastern clime, a rose-red city half as old as time"
Dean Burgon
Visit the world wonder – the red-rose city of Petra curved out of the red-rose sand stones by Arab Nabataeans 2000 ago. Those brilliant traders controlled the most important trade routes in their time, which made them so wealthy and more opened to the most known civilizations, all reflected to their architecture, their temples and funeral tombs curved by their own hands as a harmonic mixture of these great civilizations.
No more than 2hour drive from Aqaba will take you to that wonder, and people from all over the world dream to make that marvelous visit. Jordan Echo Tours organize, all the year long, these daily guided tours with professional guides who speak different languages, by modern air conditioned cars and vans.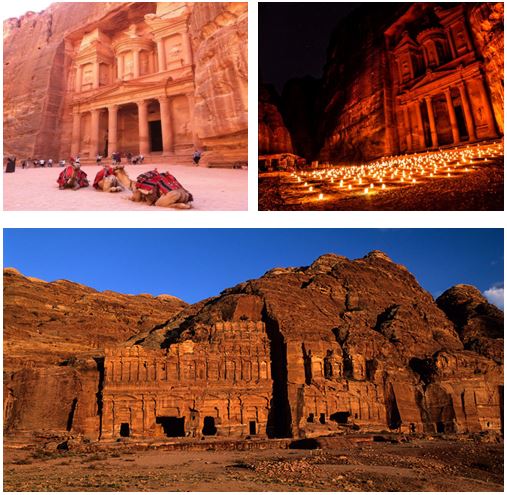 Tour Itinerary:
-Pick up from Aqaba, driving for about 2 hours by the King's highway, including a short break looking over the view of Petra mountain and Araba desert behind
– Arriving Petra visitors center using the facilities there
– Guided tour in the site down the Roman Street
– Free time for more hiking around and heading back to the visitor center
– Lunch in a restaurant, open buffet style
– Transfer back to Aqaba
Tour includes:
– Transportation by air conditioned car or van with escorted driver
– Local guide
– Entrance fees
– Open buffet lunch
Not including :
– Drink
– Tips
WADI RUM TOURS,
"Rum the magnificent vast… echoing and God like"
Lawrence of Arabia
The most spectacular desert scenery in the Middle East,Wadi Rum is located in south of Jordan. Dramatic beauty of wonderful sand stone mountains with different colors from white to pink, and even red, will provide that unique experience of ideal trekking sites, combined with local Bedouin experience of travelling and camping. The high red sand dunes, narrow canyons, low valleys (wadies ),terrains and a tall mountain were created by hundred million years of erosion and volcanic activities. Wadi Rum is the home of Bedouins, the soul of the Jordanian culture who have lived there for hundreds of years continually preserving the same values and traditions of many nomadic Arabian tribes passed from the time of Nabataeans and Thamodians who left the inscriptions you could see in different places there.
Today Wadi Rum is a protected area covering 720skm run by ASEZA and RSCN managed locally by the same Bedouins who offer the Jeep tours, guiding, camel riding and camping services.
Jordan Echo Tours invite you to live that great experience by very special tours run all the year long. In less than one hour drive, we'll take you from the Red Sea to the Red Desert.
Jordan Echo Tours gives different options for these, depending on how long you would like to stay, from 2 hours to 2 days.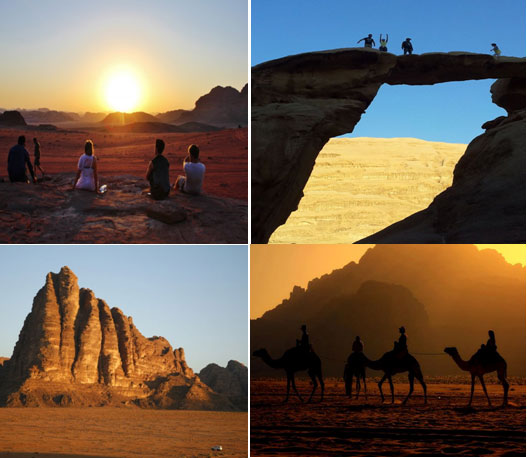 The Tour Itinerary:
– Pick up from Aqaba, driving to Wadi Rum for about one hour
– Arrival at the visitor center using the facilities there
– Jeep Tour for (2-4) hours
– Watching the amazing sunset
– Drive to the camp, local dinner (optional)
– Transfer back to Aqaba ( or sleeping overnight there, for the overnight option and back to Aqaba next day) Jeep Tour length depends on your choice
Tour includes:
– Transportation by Air conditioned car or van with escorted driver
– Entrance fees
– Jeep tour with local Bedouin driver and guide
– Rum protected area tour
– Dinner (optional)
– For Overnight tour – dinner, bed and breakfast
Not including:
– Drinks
– Tips